"محسن علیشاهیها"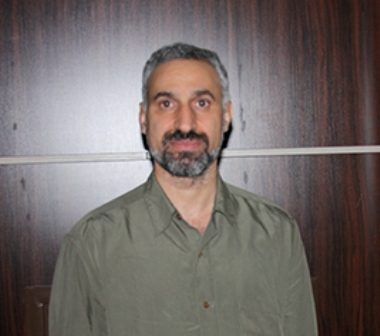 پست الکترونیکی:
سمت در پژوهشگاه
هیئت علمی، پژوهشکده فیزیک
(1373 تا اکنون )


سمت‌های پیشین در پژوهشگاه
رئیس، پژوهشکده فیزیک
(1383 تا 1386)

هیئت علمی، پژوهشکده فیزیک
(1383 تا 1386)


هیئت علمی، پژوهشکده فیزیک
(1380 تا 1383)




علایق پژوهشی
String Theory
فعالیت‌های پژوهشی
I have been working on String Theory as a fundamental theory. In particular I am interested in nonperturhatue of String Theory. Now I am working on String Field Theory. Using String Field Theory one can study for example the Tachyon condensation on unstable branue.
مقالات
3.
A. Akhavan and M. Alishahiha
An infalling observer and behind the horizon cutoff
SciPost Phys. 7 (2019), 073 [abstract]
arXive.org link: 1908.03502 [ abs, src, ps, others], cited by
Code: IPM/P-2019/089 Note: published 3 December 2019
6.
M. Alishahiha and A. Faraji Astaneh
Complexity of hyperscaling violating theories at finite cutoff
Phys. Rev. D 100 (2019), 086004 [abstract]
arXive.org link: 1905.10740 [ abs, src, ps, others], cited by
Code: IPM/P-2019/057 Note: 2019-10-08
8.
A. Akhavan, M. Alishahiha, A. Naseh and H. Zolfi
Complexity and behind the horizon cut off
JHEP 2018 (2018), 90 [abstract]
arXive.org link: 1810.12015 [ abs, src, ps, others], cited by
Code: IPM/P-2018/099 Note: Published: 14 December 2018
15.
M. Alishahiha, A. Davody, A. Naseh and SF. Taghavi
On Butterfly effect in Higher Derivative Gravities
JHEP 11 (2016), 032 [abstract]
Code: IPM/P-2016/081
18.
M. Alishahiha, M.M. Qaemmaqami, A. Naseh and A. Shirzad
Holographic Renormalization of 3D Minimal Massive Gravity
JHEP 01 (2016), 106 [abstract]
Code: IPM/P-2015/067
23.
M. Alishahiha, M.M. Qaemmaqami, A. Naseh and A. Shirzad
On 3D Minimal Massive Gravity
(Preprint) [abstract]
Code: IPM/P-2014/046
36.
A . Akhavan and M. Alishahiha
P-Wave Holographic Insulator/Superconductor Phase
Phys. Rev. D 83 (2011), 086003 [abstract]
Code: IPM/P-2010/050
51.
M. Alishahiha
Holography and De Sitter Space
( In: the 12th Regional Conference on Mathematical Physics, 27 March-1 April 2006, p63-72, Islamabad, Pakistan )
[abstract]
Code: IPM/P-2007/051
60.
M. Alishahiha, A. Karch, E. Silverstein and D. Tong
The dS/dS correspondence
( In: AIP Conference Proceedings Volume 743, The New Cosmology: Conference on Strings and Cosmology and The Mitchell Symposium on Observational Cosmology, College Station, Texas (USA), 14-17 March; 12-16 April 2004 )
[abstract]
arXive.org link: hep-th/0407125 [ abs, src, ps, others], cited by
Code: IPM/P-2004/031
61.
M. Alishahiha, E. Silverstein and D. Tong
DBI in the Sky : Non-Gaussianity from Inflation with A Speed Limit
Phys. Rev. D 70 (2004), 123505 [abstract]
arXive.org link: hep-th/0404084 [ abs, src, ps, others], cited by
Code: IPM/P-2004/016
69.
M. Alishahiha, Mohammad M. Sheikh Jabbari and R. Tatar
Spacetime Quotients, Penrose Limits and Restoration of Conformal Symmetry
JHEP 01 (2003), 028 [abstract]
arXive.org link: hep-th/0211285 [ abs, src, ps, others], cited by
Code: IPM/P-2002/061
75.
M. Alishahiha and Mohammad M. Sheikh Jabbari
Strings in PP-Waves and Worldsheet Deconstruction
Phys. Lett. B 538 (2002), 180-188 [abstract]
arXive.org link: hep-th/0204174 [ abs, src, ps, others], cited by
Code: IPM/P-2002/012
85.
M.R. Abolhasani, M. Alishahiha and A.M. Ghezelbash
The Moduli Space and Monodromies of the N=2 Supersymmetric Yang-Mills Theory with Any Lie Gauge Groups
Nucl. Phys. B 480 (1996), 279-295 [abstract]
arXive.org link: hep-th/9606043 [ abs, src, ps, others], cited by
Code: IPM/P-1996/019
88.
M. Alishahiha
Generalization of the H-Deformation to Higher Dimensions
J. Phys. A: Math. Gen. 28 (1995), 6178-6192 [abstract]
Code: IPM/P-1995/009