"مهدی گلشنی"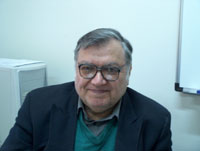 پست الکترونیکی:
سمت در پژوهشگاه
null،



سمت‌های پیشین در پژوهشگاه
عضو شورای علمی پژوهشگاه
(1368 تا 1382)



سمت‌های خارج از پژوهشگاه
Professor of Sharif University of Technology
Member, American Association of Physics Teachers - Center for Theology and Natural Science
علایق پژوهشی
Foundational Physics, Particle Physics, Cosmology, Philosophical Aspects of Physics Entanglement and Non-locality Reality and Contextuality in physics Fundamental problems in Early Universe and Cosmology; Fundamental problems in Quantum Gravity and Quantum ;Filed Theory ; Bohmian Quantum Mechanics;
فعالیت‌های پژوهشی
1- Various Aspects of Bell''''''''''''''''''''''''''''''''s Theorem
2- Various Aspects of Bohmian Quantum Mechanics
3- Extension of Bohmian Mechanics to Gravitation
4- Theological and Philosophical Aspects of Physics
پروژهٔ پژوهشی فعلی در پژوهشگاه
Research on the Foundations of Quantum Mechanics and Cosmology
توضیحات
List of my Prints: 1- The Holy Quran and the Science of Nature
2- From Physics to Metaphysics
3- Can Science Dispense with Religion?
مقالات
2.
M. Ramezani, S. Marcantoni, F. Benatti, R. Floreanini, F. Petiziol, A.T. Rezakhani and M. Golshani
Impact of nonideal cycles on the efficiency of quantum heat engines
Eur. Phys. J. D 73 (2019), 144 [abstract]
arXive.org link: 1708.00263 [ abs, src, ps, others], cited by
Code: IPM/P-2019/067
3.
M. Jamali, M. Golshani and Y. Jamali
A proposed mechanism for mind-brain interaction using extended Bohmian quantum mechanics in Avicenna's monotheistic perspective
Heliyon 5 (2019), e02130 [abstract]
Code: IPM/P-2019/065 Note: Received 21 April 2019, Revised 12 June 2019, Accepted 18 July 2019, Available online 27 July 2019.
4.
S. Aghapour, Gh. Jafari and M. Golshani
On variational principle and canonical structure of gravitational theory in double-foliation formalism
Class.Quant.Grav 36 (2019), 015012 [abstract]
Code: IPM/P-2019/010 Note: https://iopscience.iop.org/article/10.1088/1361-6382/aaef9e/meta
6.
F. Rahmani, M. Golshani and GH. Jafari
Gravitational reduction of the wave function based on Bohmian quantum potential
Int. J. Mod. Phys. A 33 (2018), 1850129 [abstract]
arXive.org link: 2001.01905 [ abs, src, ps, others], cited by
Code: IPM/P-2018/051
7.
M. Ramezani, M. Golshani and A. T.Rezakhani
Fluctuation Relation for Heat Exchange in Markovian Open Quantum Systems
Phys. Rev. E 97 (04) (2018), 042101 [abstract]
arXive.org link: 1710.09444 [ abs, src, ps, others], cited by
Code: IPM/P-2018/033
8.
F. Rahmani and M. Golshani
Some Clarifications About the Bohmian Geodesic Deviation Equation and Raychaudhuri's Equation
Int. J. Mod. Phys. A 33 (2018), 1850027 [abstract]
arXive.org link: 1706.08010 [ abs, src, ps, others], cited by
Code: IPM/P-2018/032
9.
F. Rahmani and M. Golshani
Some Clarifications on the Relation Between Bohmian Quantum Potential and Mach's Principle
Int. J. Theor. Phys. 56 (2017), 3096-3107 [abstract]
Code: IPM/P-2017/083
10.
B. Borgheai and M. Golshani
A Bergsonian Approach toward Phenomenal Externalism: Rendering Unity
Filosofiska Notiser 3 (2016), 61-78 [abstract]
Code: IPM/P-2016/069
11.
F. Rahmani, M. Golshani and M. Sarbishei
A Bohmian approach to the perturbations of non-linear Klein-Gordon equation
PRAMANA J. Phys. 87 (2016), 23 [abstract]
Code: IPM/P-2015/080
12.
F. Rahmani, M. Golshani and M. Sarbishei
Deriving relativistic Bohmian quantum potential using variational method and conformal transformations
PRAMANA J. Phys. 85 (2016), 747-761 [abstract]
Code: IPM/P-2015/079
13.
E. Bahrami, A. Shafiee, M. Saravani and M. Golshani
Is Quantum Theory Compatible with special relativity?
PRAMANA J. Phys. 80 (2013), 429-437 [abstract]
Code: IPM/P-2013/068
14.
J. Yousefi Koupaei and M. Golshani
A Quasi-Bohmian Approach for a Homogeneous Spherical Solid Body Based on Its Geometric Structure
J. Math. Phys. 54 (2013), 122107-122107.12 [abstract]
Code: IPM/P-2013/067
15.
M. Atiq, M. Karamian and M. Golshani
A Quasi-Newtonian Approach to Bohmian Mechanics I: Quantum Potential
Annales de la Foundation Louis de Broglie 34 (2009), 67-82 [abstract]
Code: IPM/P-2009/056
16.
M. Atiq, M. Karamian and M. Golshani
A New Way for the Extension of Quantum Theory: Non-Bohmian Quantum Potentials
Found. Phys. 39 (2009), 33-44 [abstract]
Code: IPM/P-2008/083
17.
S.V. Mousavi and M. Golshani
Causal Description of The Interaction of A Two-Level Atom with A Classical Field
Physica Scripta 78 (2008), 035007 [abstract]
Code: IPM/P-2008/050
18.
S.V. Mousavi and M. Golshani
Bohmian Approach to Spin-Dependent Time of Arrival for Particles in a Uniform Field and for Particles Passing Through a Barrier
J. Phys. A 41 (2008), 375304 [abstract]
Code: IPM/P-2008/047
19.
A. Shafiee, R. Maleeh and M. Golshani
Common Cause and Contextual Realization of Bell Correlation
Ann. Phys. 323 (2008), 432-443 [abstract]
Code: IPM/P-2008/041
20.
A. Fahmi and M. Golshani
Comment on: Quantum Key Distribution in the Holevo Limit
Phys. Rev. Lett. 100 (2008), 018901 [abstract]
Code: IPM/P-2008/040
21.
A. Fahmi and M. Golshani
Transition of D-Level Quantum Systems through Quantum Channels with Correlated Noise
Phys. Rev. A 75 (2007), 042301 [abstract]
Code: IPM/P-2007/057
22.
A. Shafiee, M. Jafar-Aghdami and M. Golshani
A Critique of Mohrhoff's Interpretation of Quantum Mechanics
Stud. Hist. Phil. Mod. Phys. 37 (2006), 316-329 [abstract]
Code: IPM/P-2006/081
23.
O. Akhavan, A.T. Rezakhani and M. Golshani
A Scheme for Spatial Wave Function Teleportation in Three Dimensions
Int. J. Quant. Inf. 4 (2006), 781-790 [abstract]
Code: IPM/P-2006/079
24.
A. Shafiee and M. Golshani
Complete Correlation, Detection Loophole and Bell's Theorem
Fortschritte Der Physik-Progress of Physics 53 (2005), 105-113 [abstract]
Code: IPM/P-2005/065
25.
O. Akhavan, A.T. Rezakhani and M. Golshani
Spatial Bell State Measurement of Two Particles
Int. J. Quant. Info. 3 (2005), 87-92 [abstract]
Code: IPM/P-2005/064
26.
A. Shafiee and M. Golshani
On the Relevance of Fair Sampling Assumption in the Recent Bell Photonic Experiments
J. Mod. Opt. 52 (2005), 1405-1414 [abstract]
Code: IPM/P-2005/063
27.
O. Akhavan and M. Golshani
Comment on Experimental Realization of A First Test of De Broglie Bohm Theory
J. Phys. B 37 (2004), 3777-3779 [abstract]
Code: IPM/P-2004/071
31.
A. Fahmi and M. Golshani
Locality, Bell's Inequality and the GHZ Theorem
Phys. Lett. A 306 (2003), 259-264 [abstract]
Code: IPM/P-2003/040
33.
M. Abolhasani and M. Golshani
The Path Integral Approach in the Frame Work of Causal Interpretation
Annales de la Foundation Louis de Broglie 28 (2003), 1-8 [abstract]
Code: IPM/P-2002/088
35.
H. Motavali and M. Golshani
Exact Solutions for Cosmological Models with A Scalar Field
Int. J. Mod. Phys. A 17 (2002), 375-381 [abstract]
Code: IPM/P-2001/064
39.
M. Golshani and A. Fahmi
Is Bell's Locality Condition Necessary for the Derivation of Bell's Inequality?
Annales de la Foundation Louis de Broglie 26 (2001), 735-741 [abstract]
Code: IPM/P-2001/081
40.
M. Golshani and O. Akhavan
Bohmian Prediction about A Two Double-Slit Experiment and Its Disagreement with Standard Quantum Mechanics
J. Phys. A: Math. Gen. 34 (2001), 5259-5268 [abstract]
arXive.org link: quant-ph/0103101 [ abs, src, ps, others], cited by
Code: IPM/P-2001/075
42.
M. Abolhasani and M. Golshani
Tunneling Times in the Copenhagen Interpretation of Quantum Mechanics
Phys. Rev. A 61 (2000), 0621XX-1-7 [abstract]
Code: IPM/P-1999/006
46.
M. Golshani, H. Motavali and H. Salehi
Conformal Invariance and Wave-Particle Duality
Mod. Phys. Lett. A 14 (1999), 2481-2485 [abstract]
Code: IPM/P-1999/098
47.
A. Shojai and M. Golshani
Direct Particle Quantum Interaction
Contemporary Fundamental Physics(photon old ..) 1 (1999), 273-287 [abstract]
Code: IPM/P-1999/029
48.
M. Abolhasani and M. Golshani
Born's Principle and Action-Reactions Problem
Found. Phys. Lett. 12 (1999), 299-306 [abstract]
arXive.org link: quant-ph/9707052 [ abs, src, ps, others], cited by
Code: IPM/P-1997/009
54.
F. Shojai and M. Golshani
On the Geometriziation of Bohman Mechanics: A New Suggested Approach Quantum Gravity
Int. J. Mod. Phys. A 13 (1998), 677-693 [abstract]
Code: IPM/P-1997/006
56.
M. Abolhasani and M. Golshani
The Path Integral Approach on the Frame Work of the Casual Interpretation
(Preprint) [abstract]
Code: IPM/P-1997/043
65.
H. Razmi and M. Golshani
On Stapp's Quantum Non-Locality and the Irrelevance of Determinism
(Preprint) [abstract]
Code: IPM/P-1996/026
67.
H. Razmi and M. Golshani
Dose Bell's Inequality Violation Imply Non-Locality?
(Preprint) [abstract]
Code: IPM/P-1995/002