"Mojtaba Moniri"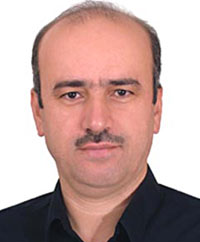 Tel: +98 21 22290928
Fax: +98 21 22290648
Email:
IPM Positions
Resident Researcher, School of Mathematics
(2006 - 2007 )


Past IPM Positions
Vice Head, School of Mathematics
(2003 - 2006)
(Until March )
Senior Associate Researcher, School of Mathematics
(2001 - 2006)

Associate Researcher (non-resident), School of Mathematics
(2000 - 2001)



Non IPM Affiliations
Associate Professor of Tarbiat Modarres University (Tel: +98-21-88011001, ext. 3499)
Research Interests
Models of Arithmetic, Model Theoretic Algebra, Generalized Power Series, Sturmian Sequences and Computable Analysis, Diophantine Approximations.
Awards
Iranian Mathematical Society
Research Activities
Models of Arithmetic:

Open Induction,

?

Exponential Open Induction and Cofinality of Primes,

?

\mathbbZ-rings and Universal Interpolation (Hilbert's 10th Problem),

?

Fragments Not Proving Goldbach.

?

Diophantine Approximations/Uniform Distribution or Density Mod 1:

In Generalized Power Series,

?

Of Recursive Reals,

?

Choice of IP's for Density Mod 1,

?

Nontrivial DMO Subsets,

?

Nonstandard Settings and the Theorems of: Dirichlet, Bang-Skolem, and Roth,

?

Dynamics of Interval Maps.

?

Model Theory of Ordered Fields:

Topological Considerations and Their First Order Versions,

?

Existence/Non-existence of Gaps of Certain Kinds,

?

Gap-traversing Functions,

?

Definability or Otherwise of the Set of Infinitesimals,

?

Expansions [Exponentiation, Model-completeness, (Weak) o-minimality, D-completeness].

?

Algebra and Topology of Ordered Fields:

Proper Dense Subfields,

?

Automorphisms,

?

Wild Functions Constructed in Terms of Gaps,

?

Relatively Complete Ordered Fields with No IP's,

?

JEP and AP for Subclasses.

?

Nonstandard Methods/Reverse-Mathematical Aspects/Constructive Issues:

Dealing with Number Theory,

?

Concerning Analysis and Measure Theory,

?

And Set Theory.

?

Theoretical Computer Science:

Intuitionistic Logic,

?

Recursive Analysis,

?

Computable Algebra,

?

Complexity Theory and Weak Arithmetics.

?

Foundational Issues:

Regarding Church's Thesis,

?

On Mechanistic Thesis in Philosophy of Mind (Arguments for or Against),

?

About Infinite Time Computations.
Footnotes:
1My 01-02 research at IPM is entitled Relatively Complete Ordered Fields and Nonstandard Diophantine Approximations.
Present Research Project at IPM
Relatively Complete Ordered Fields and Nonstandard Arithmetic
Related Papers
1.
M. Ghasemi and Moj. Moniri


Beatty sequences and the arithmetical hierarchy



6.
Moj. Moniri and J. S. Eivazloo


Using nets in Dedekind, monotone, or Scott incomplete ordered fields and definability issues




( In: Proceedings of the Ninth Prague Topological Symposium)

[abstract]
9.
M. Ardeshir and Moj. Moniri


Intuitionistic open induction and least number principle and the Buss operator




Notre Dame J. Formal Logic

39

(1998), 212-220

[abstract]