"Mohammad Reza Garousi"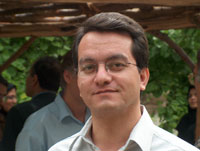 Tel: +98 511 8407704
Fax: +98 21 22280415
Email:
IPM Positions
Non Resident Researcher, School of Physics
(1997 - 2010 )


Non IPM Affiliations
Associate Professor of Ferdowsi University of Mashad
Research Interests
Superstring Theory
Research Activities
Two Theories are idntical if both have the some s-matrix elements. Using this, one cand find the effective field theory for different obects in string theory. One class of these objects are D-branes. The world-volume at D-branes in the presence of B-flux became non-commutative. Study of S-matrix elements on the world-volume of these D-branes reveals the fact that the gravity only through open wilson lines can couple to non-commutative D-branes. Some of D-branes in string theory are unstable. They may have application in cosmology. Study of S-matrix elements in this case reveals the fact that the effective action of unstable D-branes is the tachyonic DBI action.
Present Research Project at IPM
String Theory
Related Papers
10.
K. Bitaghsir Fadafan and M.R. Garousi


Non-Abelian Expansion of S-Matrix Elements and Non-Abelian Tachyon DBI


arXive.org link: hep-th/0607249 [ abs, src, ps, others], cited by
Code: IPM/P-2007/080
11.
M.R. Garousi


Superstring Scattering from O-planes


Code: IPM/P-2007/079
16.
E.J. Copeland, M.R. Garousi, M. Sami and S. Tsujikawa


What Is Needed of A Tachyon If It Is to Be the Dark Energy?


arXive.org link: hep-th/0411192 [ abs, src, ps, others], cited by
Code: IPM/P-2005/094
17.
M.R. Garousi, M. Sami and S. Tsujikawa


Constraints on Dirac-Born-Infeld Type Dark Energy Models from Varying Alpha


arXive.org link: hep-th/0412002 [ abs, src, ps, others], cited by
Code: IPM/P-2005/093
20.
M.R. Garousi, M. Sami and S. Tsujikawa


Generation of Electromagnetic Fields in String Cosmology with A Massive Scalar Field on the Anti D-Brane


arXive.org link: hep-th/0405012 [ abs, src, ps, others], cited by
Code: IPM/P-2004/020
22.
M.R. Garousi , M. Sami and S. Tsujikawa


Cosmology from A Rolling Massive Scalar Field on the Anti-D3 Brane of de Sitter Vacua


arXive.org link: hep-th/0402075 [ abs, src, ps, others], cited by
Code: IPM/P-2004/007
26.
M.R. Garousi and G.R. Maktabdaran


Excited D-Brane Decay in Cubic String Field Theory and in Bosonic String Theory


arXive.org link: hep-th/0210139 [ abs, src, ps, others], cited by
Code: IPM/P-2002/051
31.
M.R. Garousi


Transformation of Tte Dirac-Born-Infeld Action under the Seiberg-Witten Map


arXive.org link: hep-th/0011147 [ abs, src, ps, others], cited by
Code: IPM/P-2000/050
34.
M.R. Garousi


Non-Commutative World-Volume Interactions on D-Branes and Dirac-Born-Infeld Action


arXive.org link: hep-th/9909214 [ abs, src, ps, others], cited by
Code: IPM/P-1999/051