"Ahmad Moshaii"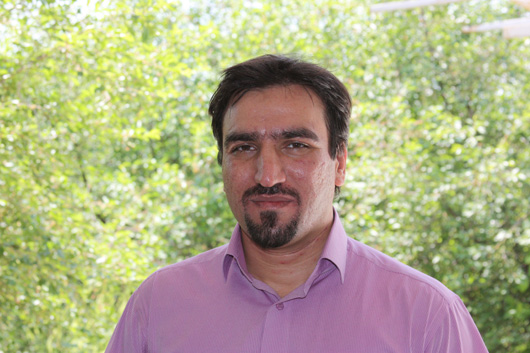 Tel: +98 21 22280692
Fax: +98 21 22280415
Email:
IPM Positions
Resident Researcher, School of Physics
(2016 - 2020 )


Related Papers
1.
M. Sajadpour, H. Siampour, S. Abbasian, M. Amiri, R. Rameshan, Ch. Rameshan, A. Hajian, H. Bagheri and A. Moshaii


A Non-Enzymatic Glucose Sensor Based on the Hybrid Thin Films of Cu on Acetanilide/ITO




J. Electrochem. Soc.

166

(2019), B1116-B1125

[abstract]

Code: IPM/P-2019/060 Note: Published August 13, 2019.
2.
S. Karimi, A. Moshaii, S. Abbasian and M. Nikkhah


Surface Plasmon Resonance in Small Gold Nanoparticles: Introducing a Size-Dependent Plasma Frequency for Nanoparticles in Quantum Regime


Code: IPM/P-2018/082 Note: https://doi.org/10.1007/s11468-018-0866-4
3.
M. Zandieh, S. N. Hosseini, M. Vossoughi, M. Khatami, S. Abbasian and A. Moshaii


Label-free and simple detection of endotoxins using a sensitive LSPR biosensor based on silver nanocolumns




Analytical Biochemistry

548

(2018), 96-101

[abstract]

Code: IPM/P-2018/053
4.
S. Abbasian, A. Moshaii, N. Sobhkhiz Vayghan and M. Nikkhah


Fabrication of Ag nanostructures with remarkable narrow plasmonic resonances by glancing angle deposition


Code: IPM/P-2018/052
5.
B. Eftekharinia, A. Moshaii and A. Dabirian


Design rules of nanostructured transparent conductive electrodes for light trapping in hematite photoanodes




Journal of Photonics for Energy

7(3)

(2017), 037001

[abstract]

Code: IPM/P-2017/035
6.
B. Eftekharinia, A. Moshaii, A. Dabirian and N. Sobhkhiz


Optimization of charge transport in a Co-Pi modified hematite thin film produced by a scalable electron beam evaporation for photoelectrochemical water oxidation


Code: IPM/P-2017/005
7.
N. Farkhari, S. Abbasian, A. Moshaii and M. Nikkhah


Mechanism of Adsorption of Single and Double Stranded DNA on Gold and Silver Nanoparticles: Investigating Some Important Parameters in Bio-sensing Applications




Colloids and Surfaces B: Biointerfaces

148

(2016), 657-664

[abstract]

Code: IPM/P-2016/068
8.
R. Bahramian, H. Eshghi and A. Moshaii


Influence of annealing temperature on morphological, optical and UV detection properties of ZnO nanowires grown by chemical bath deposition


Code: IPM/P-2016/067
9.
R. Bahramian, A. Moshaii and H. Eshghi


Effect of Seeding Modification of Substrate on the Growth and UV Detection Properties of ZnO Nanowires


Code: IPM/P-2016/066