"Mohsen Khakzad"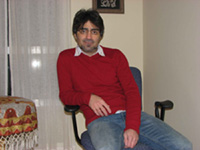 Tel: +98 21 22809150
Fax: +98 21 22809148
Email:
IPM Positions
Faculty Member , School of Particles and Accelerator
(2009 - Present )


non IPM Affiliations
CMS Experiment, CERN
Research Interests
High Precision Spectrometers(HPS) Silicon Detector RPC Detector(RPC)
Awards
Canadian Associatiof of Physicists NSERC travel funding in ATLAS Experiment (2008-2009) NSERC Research Assistanship (1994-1999)
Research Activities
Top decays inavery short time, before haronization. This charactemistic, allows one the measure W-Polarization in Di-Lepton tt events. This is a direct measerment of Wtb as Wellasknowring the V-A structure.
Present Research Project at IPM
RPC Detector
Related Papers
1.
G. Fardipour Raki, M. Ghahremani Gol, M. Sahraei and M. Khakzad


SiPM and PMT driving, signals count, and peak detection circuits, suitable for particle detection


arXive.org link: 2205.04689 [physics.ins-det] [ abs, src, ps, others], cited by
Code: IPM/P.A-750
3.
M. Ghahremani Gol, M. Khakzad, S. Jamili and N. Ghal-Eh


PMT glass window sensitivity to gamma-rays: A digital signal processing approach




Nucl. Instr. and Meth. in Phys. Res. A

957

(2020),

[abstract]

Code: IPM/P.A-634
4.
H.M. Arfaei, H. Bakhshiansohi, S.M. Etesami, A. Fahim, M. Hashemi, H. Hesari, A. Jafari, M. Khakzad, A. Mohammadi , M. Mohammadi Najafabadi, S. Paktinat, B. Safarzadeh and M. Zeinali


Studies of jet quenching using isolated-photon+jet correlations in PbPb and pp collisions at sqrt(s[NN]) = 2.76 TeV


Code: IPM/P.A-266
5.
H.M. Arfaei, H. Bakhshiansohi, S.M. Etesami, A. Fahim, M. Hashemi, H. Hesari, A. Jafari, M. Khakzad, A. Mohammadi , M. Mohammadi Najafabadi, S. Paktinat, B. Safarzadeh and M. Zeinali


Measurement of the elliptic anisotropy of charged particles produced in PbPb collisions at nucleon-nucleon center-of-mass energy = 2.76 TeV


Code: IPM/P.A-255
6.
H.M. Arfaei, H. Bakhshiansohi, S.M. Etesami, A. Fahim, M. Hashemi, H. Hesari, A. Jafari, M. Khakzad, A. Mohammadi , M. Mohammadi Najafabadi, S. Paktinat, B. Safarzadeh and M. Zeinali


Search for narrow resonances in dilepton mass spectra in pp collisions at sqrt(s) = 7 TeV


Code: IPM/P.A-278
7.
H.M. Arfaei, H. Bakhshiansohi, S.M. Etesami, A. Fahim, M. Hashemi, H. Hesari, A. Jafari, M. Khakzad, A. Mohammadi , M. Mohammadi Najafabadi, S. Paktinat, B. Safarzadeh and M. Zeinali


Search for high mass resonances decaying into tau-lepton pairs in pp collisions at sqrt(s) = 7 TeV


Code: IPM/P.A-277
8.
H.M. Arfaei, H. Bakhshiansohi, S.M. Etesami, A. Fahim, M. Hashemi, H. Hesari, A. Jafari, M. Khakzad, A. Mohammadi , M. Mohammadi Najafabadi, S. Paktinat, M. Safarzadeh and M. Zeinali


Search for exotic particles decaying to WZ in pp collisions at sqrt(s)=7 TeV



9.
H.M. Arfaei, H. Bakhshiansohi, S.M. Etesami, A. Fahim, M. Hashemi, H. Hesari, A. Jafari, M. Khakzad, A. Mohammadi , M. Mohammadi Najafabadi, S. Paktinat, B. Safarzadeh and M. Zeinali


Search for new physics with same-sign isolated dilepton events with jets and missing transverse energy



10.
H.M. Arfaei, H. Bakhshiansohi, S.M. Etesami, A. Fahim, M. Hashemi, H. Hesari, A. Jafari, M. Khakzad, A. Mohammadi , M. Mohammadi Najafabadi, S. Paktinat, B. Safarzadeh and M. Zeinali


Study of W boson production in PbPb and pp collisions at sqrt(s[NN]) = 2.76 TeV


Code: IPM/P.A-274
11.
H.M. Arfaei, H. Bakhshiansohi, S.M. Etesami, A. Fahim, M. Hashemi, H. Hesari, A. Jafari, M. Khakzad, A. Mohammadi , M. Mohammadi Najafabadi, S. Paktinat, B. Safarzadeh and M. Zeinali


Measurement of jet fragmentation into charged particles in pp and PbPb collisions at sqrt(s[NN])= 2.76 TeV


Code: IPM/P.A-273
12.
H.M. Arfaei, H. Bakhshiansohi, S.M. Etesami, A. Fahim, M. Hashemi, H. Hesari, A. Jafari, M. Khakzad, A. Mohammadi , M. Mohammadi Najafabadi, S. Paktinat, B. Safarzadeh and M. Zeinali


Search for a light charged Higgs boson in top quark decays in pp collisions at sqrt(s) = 7 TeV


Code: IPM/P.A-272
13.
H.M. Arfaei, H. Bakhshiansohi, S.M. Etesami, A. Fahim, M. Hashemi, H. Hesari, A. Jafari, M. Khakzad, A. Mohammadi , M. Mohammadi Najafabadi, S. Paktinat, B. Safarzadeh and M. Zeinali


Search for new physics in events with same-sign dileptons and b-tagged jets in pp collisions at sqrt(s) = 7 TeV


Code: IPM/P.A-271
14.
H.M. Arfaei, H. Bakhshiansohi, S.M. Etesami, A. Fahim, M. Hashemi, H. Hesari, A. Jafari, M. Khakzad, A. Mohammadi , M. Mohammadi Najafabadi, S. Paktinat, B. Safarzadeh and M. Zeinali


Measurement of the pseudorapidity and centrality dependence of the transverse energy density in PbPb collisions at sqrt(s[NN]) = 2.76 TeV



15.
H.M. Arfaei, H. Bakhshiansohi, S.M. Etesami, A. Fahim, M. Hashemi, H. Hesari, A. Jafari, M. Khakzad, A. Mohammadi , M. Mohammadi Najafabadi, S. Paktinat, B. Safarzadeh and M. Zeinali


Measurement of the Lambda(b) cross section and the anti-Lambda(b) to Lambda(b) ratio with Lambda(b) to J/Psi Lambda decays in pp collisions at sqrt(s) = 7 TeV


Code: IPM/P.A-269
16.
H.M. Arfaei, H. Bakhshiansohi, S.M. Etesami, A. Fahim, M. Hashemi, H. Hesari, A. Jafari, M. Khakzad, A. Mohammadi , M. Mohammadi Najafabadi, S. Paktinat, B. Safarzadeh and M. Zeinali


Search for heavy long-lived charged particles in pp collisions at sqrt(s)=7 TeV


Code: IPM/P.A-267
17.
H.M. Arfaei, H. Bakhshiansohi, S.M. Etesami, A. Fahim, M. Hashemi, H. Hesari, A. Jafari, M. Khakzad, A. Mohammadi , M. Mohammadi Najafabadi, S. Paktinat, B. Safarzadeh and M. Zeinali


Observation of an excited Xi(b) baryon



18.
H.M. Arfaei, H. Bakhshiansohi, S.M. Etesami, A. Fahim, M. Hashemi, H. Hesari, A. Jafari, M. Khakzad, A. Mohammadi , M. Mohammadi Najafabadi, S. Paktinat, B. Safarzadeh and M. Zeinali


Search for anomalous production of multilepton events in pp collisions at sqrt(s)=7 TeV



19.
H.M. Arfaei, H. Bakhshiansohi, S.M. Etesami, A. Fahim, M. Hashemi, H. Hesari, A. Jafari, M. Khakzad, A. Mohammadi , M. Mohammadi Najafabadi, S. Paktinat, B. Safarzadeh and M. Zeinali


Search for leptonic decays of W' bosons in pp collisions at sqrt(s)=7 TeV


Code: IPM/P.A-263
20.
H.M. Arfaei, H. Bakhshiansohi, S.M. Etesami, A. Fahim, M. Hashemi, H. Hesari, A. Jafari, M. Khakzad, A. Mohammadi , M. Mohammadi Najafabadi, S. Paktinat, B. Safarzadeh and M. Zeinali


Search for physics beyond the standard model in events with a Z boson, jets, and missing transverse energy in pp collisions at sqrt(s) = 7 TeV


Code: IPM/P.A-262
21.
H.M. Arfaei, H. Bakhshiansohi, S.M. Etesami, A. Fahim, M. Hashemi, H. Hesari, A. Jafari, M. Khakzad, A. Mohammadi , M. Mohammadi Najafabadi, S. Paktinat, B. Safarzadeh and M. Zeinali


Shape, transverse size, and charged hadron multiplicity of jets in pp collisions at 7 TeV



22.
H.M. Arfaei, H. Bakhshiansohi, S.M. Etesami, A. Fahim, M. Hashemi, H. Hesari, A. Jafari, M. Khakzad, A. Mohammadi , M. Mohammadi Najafabadi, S. Paktinat, B. Safarzadeh and M. Zeinali


Measurement of the mass difference between top and antitop quarks



23.
H.M. Arfaei, H. Bakhshiansohi, S.M. Etesami, A. Fahim, M. Hashemi, H. Hesari, A. Jafari, M. Khakzad, A. Mohammadi , M. Mohammadi Najafabadi, S. Paktinat, B. Safarzadeh and M. Zeinali


Search for anomalous t t-bar production in the highly-boosted all-hadronic final state


Code: IPM/P.A-259
24.
H.M. Arfaei, H. Bakhshiansohi, S.M. Etesami, A. Fahim, M. Hashemi, H. Hesari, A. Jafari, M. Khakzad, A. Mohammadi , M. Mohammadi Najafabadi, S. Paktinat, B. Safarzadeh and M. Zeinali


Search for anomalous t t-bar production in the highly-boosted all-hadronic final state


Code: IPM/P.A-258
25.
H.M. Arfaei, H. Bakhshiansohi, S.M. Etesami, A. Fahim, M. Hashemi, H. Hesari, A. Jafari, M. Khakzad, A. Mohammadi , M. Mohammadi Najafabadi, S. Paktinat, B. Safarzadeh and M. Zeinali


Azimuthal anisotropy of charged particles at high transverse momenta in PbPb collisions at sqrt(s[NN]) = 2.76 TeV



26.
H.M. Arfaei, H. Bakhshiansohi, S.M. Etesami, A. Fahim, M. Hashemi, H. Hesari, A. Jafari, M. Khakzad, A. Mohammadi , M. Mohammadi Najafabadi, S. Paktinat, B. Safarzadeh and M. Zeinali


Measurement of the Z/gamma*+b-jet cross section in pp collisions at 7 TeV



27.
H.M. Arfaei, H. Bakhshiansohi, S.M. Etesami, A. Fahim, M. Hashemi, H. Hesari, A. Jafari, M. Khakzad, A. Mohammadi , M. Mohammadi Najafabadi, S. Paktinat, B. Safarzadeh and M. Zeinali


Measurement of the underlying event in the Drell-Yan process in proton-proton collisions at sqrt(s) = 7 TeV



28.
H.M. Arfaei, H. Bakhshiansohi, S.M. Etesami, A. Fahim, M. Hashemi, H. Hesari, A. Jafari, M. Khakzad, A. Mohammadi , M. Mohammadi Najafabadi, S. Paktinat, B. Safarzadeh and M. Zeinali


Search for heavy bottom-like quarks in 4.9 inverse femtobarns of pp collisions at sqrt(s) = 7 TeV


Code: IPM/P.A-253
29.
H.M. Arfaei, H. Bakhshiansohi, S.M. Etesami, A. Fahim, M. Hashemi, H. Hesari, A. Jafari, M. Khakzad, A. Mohammadi , M. Mohammadi Najafabadi, S. Paktinat, B. Safarzadeh and M. Zeinali


Search for Dark Matter and Large Extra Dimensions in pp Collisions Yielding a Photon and Missing Transverse Energy



30.
H.M. Arfaei, H. Bakhshiansohi, S.M. Etesami, A. Fahim, M. Hashemi, H. Hesari, A. Jafari, M. Khakzad, A. Mohammadi , M. Mohammadi Najafabadi, S. Paktinat, B. Safarzadeh and M. Zeinali


Ratios of dijet production cross sections as a function of the absolute difference in rapidity between jets in proton-proton collisions at sqrt(s) = 7 TeV



31.
H.M. Arfaei, H. Bakhshiansohi, S.M. Etesami, A. Fahim, M. Hashemi, H. Hesari, A. Jafari, M. Khakzad, A. Mohammadi , M. Mohammadi Najafabadi, S. Paktinat, B. Safarzadeh and M. Zeinali


Measurement of the top quark pair production cross section in pp collisions at sqrt(s) = 7 TeV in dilepton final states containing a tau


Code: IPM/P.A-250
32.
H.M. Arfaei, H. Bakhshiansohi, S.M. Etesami, A. Fahim, M. Hashemi, H. Hesari, A. Jafari, M. Khakzad, A. Mohammadi , M. Mohammadi Najafabadi, S. Paktinat, B. Safarzadeh and M. Zeinali


Search for heavy, top-like quark pair production in the dilepton final state in pp collisions at sqrt(s) = 7 TeV


Code: IPM/P.A-249
33.
H.M. Arfaei, H. Bakhshiansohi, S.M. Etesami, A. Fahim, M. Hashemi, H. Hesari, A. Jafari, M. Khakzad, A. Mohammadi , M. Mohammadi Najafabadi, S. Paktinat, B. Safarzadeh and M. Zeinali


Search for B_s to mu^+ mu^- and B^0 to mu^+ mu^- decays



34.
H.M. Arfaei, H. Bakhshiansohi, S.M. Etesami, A. Fahim, M. Hashemi, H. Hesari, A. Jafari, M. Khakzad, A. Mohammadi , M. Mohammadi Najafabadi, S. Paktinat, B. Safarzadeh and M. Zeinali


Measurement of the cross section for production of b b-bar X, decaying to muons in pp collisions at sqrt(s)=7 TeV



35.
H.M. Arfaei, H. Bakhshiansohi, S.M. Etesami, A. Fahim, M. Hashemi, H. Hesari, A. Jafari, M. Khakzad, A. Mohammadi , M. Mohammadi Najafabadi, S. Paktinat, B. Safarzadeh and M. Zeinali


Search for microscopic black holes in pp collisions at sqrt(s) = 7 TeV



36.
H.M. Arfaei, H. Bakhshiansohi, S.M. Etesami, A. Fahim, M. Hashemi, H. Hesari, A. Jafari, M. Khakzad, A. Mohammadi , M. Mohammadi Najafabadi, S. Paktinat, B. Safarzadeh and M. Zeinali


Search for quark compositeness in dijet angular distributions from pp collisions at sqrt(s) = 7 TeV


Code: IPM/P.A-245
37.
H.M. Arfaei, H. Bakhshiansohi, S.M. Etesami, A. Fahim, M. Hashemi, H. Hesari, A. Jafari, M. Khakzad, A. Mohammadi , M. Mohammadi Najafabadi, S. Paktinat, B. Safarzadeh and M. Zeinali


Jet momentum dependence of jet quenching in PbPb collisions at sqrt(sNN)=2.76 TeV


Code: IPM/P.A-244
38.
H.M. Arfaei, H. Bakhshiansohi, S.M. Etesami, A. Fahim, M. Hashemi, H. Hesari, A. Jafari, M. Khakzad, A. Mohammadi , M. Mohammadi Najafabadi, S. Paktinat, B. Safarzadeh and M. Zeinali


Inclusive b-jet production in pp collisions at sqrt(s)=7 TeV



39.
H.M. Arfaei, H. Bakhshiansohi, S.M. Etesami, A. Fahim, M. Hashemi, H. Hesari, A. Jafari, M. Khakzad, A. Mohammadi , M. Mohammadi Najafabadi, S. Paktinat, B. Safarzadeh and M. Zeinali


Search for the standard model Higgs boson decaying to bottom quarks in pp collisions at sqrt(s)=7 TeV


Code: IPM/P.A-242
40.
H.M. Arfaei, H. Bakhshiansohi, S.M. Etesami, A. Fahim, M. Hashemi, H. Hesari, A. Jafari, M. Khakzad, A. Mohammadi , M. Mohammadi Najafabadi, S. Paktinat, B. Safarzadeh and M. Zeinali


Search for neutral Higgs bosons decaying to tau pairs in pp collisions at sqrt(s)=7 TeV


Code: IPM/P.A-241
41.
H.M. Arfaei, H. Bakhshiansohi, S.M. Etesami, A. Fahim, M. Hashemi, H. Hesari, A. Jafari, M. Khakzad, A. Mohammadi , M. Mohammadi Najafabadi, S. Paktinat, B. Safarzadeh and M. Zeinali


Search for large extra dimensions in dimuon and dielectron events in pp collisions at sqrt(s) = 7 TeV


Code: IPM/P.A-240
42.
H.M. Arfaei, H. Bakhshiansohi, S.M. Etesami, A. Fahim, M. Hashemi, H. Hesari, A. Jafari, M. Khakzad, A. Mohammadi , M. Mohammadi Najafabadi, S. Paktinat, B. Safarzadeh and M. Zeinali


Search for the standard model Higgs boson in the H to ZZ to 2l 2nu channel in pp collisions at sqrt(s) = 7 TeV


Code: IPM/P.A-239
43.
H.M. Arfaei, H. Bakhshiansohi, S.M. Etesami, A. Fahim, M. Hashemi, H. Hesari, A. Jafari, M. Khakzad, A. Mohammadi , M. Mohammadi Najafabadi, S. Paktinat, B. Safarzadeh and M. Zeinali


Search for the standard model Higgs boson in the H to ZZ to ll tau tau decay channel in pp collisions at sqrt(s)=7 TeV


Code: IPM/P.A-238
44.
H.M. Arfaei, H. Bakhshiansohi, S.M. Etesami, A. Fahim, M. Hashemi, H. Hesari, A. Jafari, M. Khakzad, A. Mohammadi , M. Mohammadi Najafabadi, S. Paktinat, B. Safarzadeh and M. Zeinali


Study of high-pT charged particle suppression in PbPb compared to pp collisions at sqrt(sNN)=2.76 TeV



45.
H.M. Arfaei, H. Bakhshiansohi, S.M. Etesami, A. Fahim, M. Hashemi, H. Hesari, A. Jafari, M. Khakzad, A. Mohammadi , M. Mohammadi Najafabadi, S. Paktinat, B. Safarzadeh and M. Zeinali


Search for the standard model Higgs boson in the decay channel H to ZZ to 4 leptons in pp collisions at sqrt(s) = 7 TeV



46.
H.M. Arfaei, H. Bakhshiansohi, S.M. Etesami, A. Fahim, M. Hashemi, H. Hesari, A. Jafari, M. Khakzad, A. Mohammadi , M. Mohammadi Najafabadi, S. Paktinat, B. Safarzadeh and M. Zeinali


Search for the standard model Higgs boson decaying to a W pair in the fully leptonic final state in pp collisions at sqrt(s) = 7 TeV.


Code: IPM/P.A-235
47.
H.M. Arfaei, H. Bakhshiansohi, S.M. Etesami, A. Fahim, M. Hashemi, H. Hesari, A. Jafari, M. Khakzad, A. Mohammadi , M. Mohammadi Najafabadi, S. Paktinat, B. Safarzadeh and M. Zeinali


Combined results of searches for the standard model Higgs boson in pp collisions at sqrt(s) = 7 TeV


Code: IPM/P.A-234
48.
H.M. Arfaei, H. Bakhshiansohi, S.M. Etesami, A. Fahim, M. Hashemi, H. Hesari, A. Jafari, M. Khakzad, A. Mohammadi , M. Mohammadi Najafabadi, S. Paktinat, B. Safarzadeh and M. Zeinali


Search for the standard model Higgs boson decaying into two photons in pp collisions at sqrt(s)=7 TeV


Code: IPM/P.A-232
49.
H.M. Arfaei, H. Bakhshiansohi, S.M. Etesami, A. Fahim, M. Hashemi, H. Hesari, A. Jafari, M. Khakzad, A. Mohammadi , M. Mohammadi Najafabadi, S. Paktinat, B. Safarzadeh and M. Zeinali


Search for a Higgs boson in the decay channel H to ZZ(*) to q qbar l-l+ in pp collisions at sqrt(s) = 7 TeV


Code: IPM/P.A-231
50.
H.M. Arfaei, H. Bakhshiansohi, S.M. Etesami, A. Fahim, M. Hashemi, H. Hesari, A. Jafari, M. Khakzad, A. Mohammadi , M. Mohammadi Najafabadi, S. Paktinat, B. Safarzadeh and M. Zeinali


Measurement of the inclusive production cross sections for forward jets and for dijet events with one forward and one central jet in pp collisions at sqrt(s) = 7 TeV



51.
H.M. Arfaei, H. Bakhshiansohi, S.M. Etesami, A. Fahim, M. Hashemi, H. Hesari, A. Jafari, M. Khakzad, A. Mohammadi , M. Mohammadi Najafabadi, S. Paktinat, B. Safarzadeh and M. Zeinali


Suppression of non-prompt J/psi, prompt J/psi, and Y(1S) in PbPb collisions at sqrt(sNN) = 2.76 TeV


Code: IPM/P.A-229
52.
H.M. Arfaei, H. Bakhshiansohi, S.M. Etesami, A. Fahim, M. Hashemi, H. Hesari, A. Jafari, M. Khakzad, A. Mohammadi , M. Mohammadi Najafabadi, S. Paktinat, B. Safarzadeh and M. Zeinali


Centrality dependence of dihadron correlations and azimuthal anisotropy harmonics in PbPb collisions at sqrt(s[NN]) = 2.76 TeV



53.
H.M. Arfaei, H. Bakhshiansohi, S.M. Etesami, A. Fahim, M. Hashemi, H. Hesari, A. Jafari, M. Khakzad, A. Mohammadi , M. Mohammadi Najafabadi, S. Paktinat, B. Safarzadeh and M. Zeinali


Measurement of isolated photon production in pp and PbPb collisions at sqrt(sNN) = 2.76 TeV


Code: IPM/P.A-227
54.
H.M. Arfaei, H. Bakhshiansohi, S.M. Etesami, A. Fahim, M. Hashemi, H. Hesari, A. Jafari, M. Khakzad, A. Mohammadi , M. Mohammadi Najafabadi, S. Paktinat, B. Safarzadeh and M. Zeinali


Measurement of the charge asymmetry in top-quark pair production in proton-proton collisions at sqrt(s) = 7 TeV


Code: IPM/P.A-226
55.
H.M. Arfaei, H. Bakhshiansohi, S.M. Etesami, A. Fahim, M. Hashemi, H. Hesari, A. Jafari, M. Khakzad, A. Mohammadi , M. Mohammadi Najafabadi, S. Paktinat, B. Safarzadeh and M. Zeinali


Exclusive photon-photon production of muon pairs in proton-proton collisions at sqrt(s) = 7 TeV


Code: IPM/P.A-224
56.
H.M. Arfaei, H. Bakhshiansohi, S.M. Etesami, A. Fahim, M. Hashemi, H. Hesari, A. Jafari, M. Khakzad, A. Mohammadi , M. Mohammadi Najafabadi, S. Paktinat, B. Safarzadeh and M. Zeinali


J/psi and psi(2S) production in pp collisions at sqrt(s) = 7 TeV


Code: IPM/P.A-223
57.
H.M. Arfaei, H. Bakhshiansohi, S.M. Etesami, A. Fahim, M. Hashemi, H. Hesari, A. Jafari, M. Khakzad, A. Mohammadi , M. Mohammadi Najafabadi, S. Paktinat, B. Safarzadeh and M. Zeinali


Measurement of the Production Cross Section for Pairs of Isolated Photons in pp collisions at sqrt(s) = 7 TeV


Code: IPM/P.A-222
58.
H.M. Arfaei, H. Bakhshiansohi, S.M. Etesami, A. Fahim, M. Hashemi, H. Hesari, A. Jafari, M. Khakzad, A. Mohammadi , M. Mohammadi Najafabadi, S. Paktinat, B. Safarzadeh and M. Zeinali


Search for signatures of extra dimensions in the diphoton mass spectrum at the Large Hadron Collider


Code: IPM/P.A-225
59.
H.M. Arfaei, H. Bakhshiansohi, S.M. Etesami, A. Fahim, M. Hashemi, H. Hesari, A. Jafari, M. Khakzad, A. Mohammadi , M. Mohammadi Najafabadi, S. Paktinat, B. Safarzadeh and M. Zeinali


Measurement of the Rapidity and Transverse Momentum Distributions of Z Bosons in pp Collisions at sqrt(s) = 7 TeV


Code: IPM/P.A-213
60.
H.M. Arfaei, H. Bakhshiansohi, S.M. Etesami, A. Fahim, M. Hashemi, H. Hesari, A. Jafari, M. Khakzad, A. Mohammadi , M. Mohammadi Najafabadi, S. Paktinat, B. Safarzadeh and M. Zeinali


Jet Production Rates in Association with W and Z Bosons in pp Collisions at sqrt(s) = 7 TeV


Code: IPM/P.A-212
61.
H.M. Arfaei, H. Bakhshiansohi, S.M. Etesami, A. Fahim, M. Hashemi, H. Hesari, A. Jafari, M. Khakzad, A. Mohammadi , M. Mohammadi Najafabadi, S. Paktinat, B. Safarzadeh and M. Zeinali


Measurement of the weak mixing angle with the Drell-Yan process in proton-proton collisions at the LHC



62.
H.M. Arfaei, H. Bakhshiansohi, S.M. Etesami, A. Fahim, M. Hashemi, H. Hesari, A. Jafari, M. Khakzad, A. Mohammadi , M. Mohammadi Najafabadi, S. Paktinat, B. Safarzadeh and M. Zeinali


Measurement of energy flow at large pseudorapidities in pp collisions at sqrt(s) = 0.9 and 7 TeV


Code: IPM/P.A-210
63.
H.M. Arfaei, H. Bakhshiansohi, S.M. Etesami, A. Fahim, M. Hashemi, H. Hesari, A. Jafari, M. Khakzad, A. Mohammadi, M. Mohammadi Najafabadi, S. Paktinat, B. Safarzadeh and M. Zeinali


Forward Energy Flow, Central Charged-Particle Multiplicities, and Pseudorapidity Gaps in W and Z Boson Events from pp Collisions at sqrt(s) = 7 TeV


Code: IPM/P.A-209
64.
H.M. Arfaei, H. Bakhshiansohi, S.M. Etesami, A. Fahim, M. Hashemi, H. Hesari, A. Jafari, M. Khakzad, A. Mohammadi, M. Mohammadi Najafabadi, S. Paktinat, B. Safarzadeh and M. Zeinali


Search for a Vector-like Quark with Charge 2/3 in t + Z Events from pp Collisions at sqrt(s) = 7 TeV



65.
H.M. Arfaei, H. Bakhshiansohi, S.M. Etesami, A. Fahim, M. Hashemi, H. Hesari, A. Jafari, M. Khakzad, A. Mohammadi, M. Mohammadi Najafabadi, S. Paktinat, B. Safarzadeh and M. Zeinali


Search for Supersymmetry at the LHC in Events with Jets and Missing Transverse Energy



66.
H.M. Arfaei, H. Bakhshiansohi, S.M. Etesami, A. Fahim, M. Hashemi, H. Hesari, A. Jafari, M. Khakzad, A. Mohammadi, M. Mohammadi Najafabadi, S. Paktinat, B. Safarzadeh and M. Zeinali


Measurement of the tt Production Cross Section in pp Collisions at 7 TeV in Lepton + Jets Events Using b-quark Jet Identification



67.
H.M. Arfaei, H. Bakhshiansohi, S.M. Etesami, A. Fahim, M. Hashemi, H. Hesari, A. Jafari, M. Khakzad, A. Mohammadi, M. Mohammadi Najafabadi, S. Paktinat, B. Safarzadeh and M. Zeinali


Measurement of the Differential Cross Section for Isolated Prompt Photon Production in pp Collisions at 7 TeV



68.
H.M. Arfaei, H. Bakhshiansohi, S.M. Etesami, A. Fahim, M. Hashemi, H. Hesari, A. Jafari, M. Khakzad, A. Mohammadi, M. Mohammadi Najafabadi, S. Paktinat, B. Safarzadeh and M. Zeinali


Measurement of the Drell-Yan Cross Section in pp Collisions at sqrt(s) = 7 TeV


Code: IPM/P.A-201
69.
H.M. Arfaei, H. Bakhshiansohi, S.M. Etesami, A. Fahim, M. Hashemi, H. Hesari, A. Jafari, M. Khakzad, A. Mohammadi, M. Mohammadi Najafabadi, S. Paktinat, B. Safarzadeh and M. Zeinali


Search for B(s) and B to dimuon decays in pp collisions at 7 TeV



70.
H.M. Arfaei, H. Bakhshiansohi, S.M. Etesami, A. Fahim, M. Hashemi, H. Hesari, A. Jafari, M. Khakzad, A. Mohammadi, m. Mohammadi Najafabadi, S. Paktinat, B. Safarzadeh and M. Zeinali


Dependence on pseudorapidity and centrality of charged hadron production in PbPb collisions at a nucleon-nucleon centre-of-mass energy of sqrt(SNN)= 2.76 TeV



71.
H.M. Arfaei, H. Bakhshiansohi, S.M. Etesami, A. Fahim, M. Hashemi, H. Hesari, A. Jafari, M. Khakzad, A. Mohammadi , M. Mohammadi Najafabadi, S. Paktinat, B. Safarzadeh and M. Zeinali


Measurement of the Inclusive W and Z Production Cross Sections in pp Collisions at aqrt(s) = 7 TeV


Code: IPM/P.A-198
72.
H.M. Arfaei, H. Bakhshiansohi, S.M. Etesami, A. Fahim, M. Hashemi, H. Hesari, A. Jafari, M. Khakzad, A. Mohammadi , M. Mohammadi Najafabadi, S. Paktinat, B. Safarzadeh and M. Zeinali


Search for Resonances in the Dijet Mass Spectrum from 7 TeV pp Collisions at CMS


Code: IPM/P.A-197
73.
H.M. Arfaei, H. Bakhshiansohi, S.M. Etesami, A. Fahim, M. Hashemi, H. Hesari, A. Jafari, M. Khakzad, A. Mohammadi , M. Mohammadi Najafabadi, S. Paktinat, B. Safarzadeh and M. Zeinali


Determination of Jet Energy Calibration and Transverse Momentum Resolution in CMS


Code: IPM/P.A-196
74.
H.M. Arfaei, H. Bakhshiansohi, S.M. Etesami, A. Fahim, M. Hashemi, H. Hesari, A. Jafari, M. Khakzad, A. Mohammadi , M. Mohammadi Najafabadi, S. Paktinat, B. Safarzadeh and M. Zeinali


Search for Three-Jet Resonances in pp Collisions at sqrt(s) = 7 TeV



75.
H.M. Arfaei, H. Bakhshiansohi, S.M. Etesami, A. Fahim, M. Hashemi, H. Hesari, A. Jafari, M. Khakzad, A. Mohammadi, M. Mohammadi Najafabadi, S. Paktinat, B. Safarzadeh and M. Zeinali


Search for supersymmetry in pp collisions at p s = 7 TeV in events with a single lepton, jets, and missing transverse momentum



76.
H.M. Arfaei, H. Bakhshiansohi, S.M. Etesami, A. Fahim, M. Hashemi, A. Jafari, M. Khakzad, A. Mohammadi, M. Mohammadi Najafabadi, S. Paktinat Mehdiabadi, B. Safarzadeh and M. Zeinali


A search for excited leptons in pp collisions at sqrt(s) = 7 TeV


Code: IPM/P.A-193
77.
H.M. Arfaei, H. Bakhshiansohi, S.M. Etesami, A. Fahim, M. Hashemi, A. Jafari, M. Khakzad, A. Mohammadi, M. Mohammadi Najafabadi, S. Paktinat Mehdiabadi, B. Safarzadeh and M. Zeinali


Inclusive search for squarks and gluinos in pp collisions at sqrt(s) = 7 TeV


Code: IPM/P.A-192
78.
H.M. Arfaei, H. Bakhshiansohi, S.M. Etesami, A. Fahim, M. Hashemi, A. Jafari, M. Khakzad, A. Mohammadi, M. Mohammadi Najafabadi, S. Paktinat Mehdiabadi, B. Safarzadeh and M. Zeinali


Measurement of the Underlying Event Activity at the LHC with sqrt(s) = 7 TeV and Comparison with sqrt(s) = 0.9 TeV


Code: IPM/P.A-191
79.
H.M. Arfaei, H. Bakhshiansohi, S.M. Etesami, A. Fahim, M. Hashemi, A. Jafari, M. Khakzad, A. Mohammadi, M. Mohammadi Najafabadi, S. Paktinat Mehdiabadi, B. Safarzadeh and M. Zeinali


Missing transverse energy performance of the CMS detector


Code: IPM/P.A-190
80.
H.M. Arfaei, H. Bakhshiansohi, S.M. Etesami, A. Fahim, M. Hashemi, A. Jafari, M. Khakzad, A. Mohammadi, M. Mohammadi Najafabadi, S. Paktinat Mehdiabadi, B. Safarzadeh and M. Zeinali


Search for New Physics with a Mono-Jet and Missing Transverse Energy in pp Collisions at sqrt(s) = 7 TeV



81.
H.M. Arfaei, H. Bakhshiansohi, S.M. Etesami, A. Fahim, M. Hashemi, A. Jafari, M. Khakzad, A. Mohammadi, M. Mohammadi Najafabadi, S. Paktinat Mehdiabadi, B. Safarzadeh and M. Zeinali


Search for New Physics with Jets and Missing Transverse Momentum in pp Collisions at sqrt(s) = 7 TeV



82.
H.M. Arfaei, H. Bakhshiansohi, S.M. Etesami, A. Fahim, M. Hashemi, A. Jafari, M. Khakzad, A. Mohammadi, M. Mohammadi Najafabadi, S. Paktinat Mehdiabadi, B. Safarzadeh and M. Zeinali


Search for Supersymmetry in Events with b Jets and Missing Transverse Momentum at the LHC



83.
H.M. Arfaei, H. Bakhshiansohi, S.M. Etesami, A. Fahim, M. Hashemi, A. Jafari, M. Khakzad, A. Mohammadi, M. Mohammadi Najafabadi, S. Paktinat Mehdiabadi, B. Safarzadeh and M. Zeinali


Measurement of the t-channel single top quark production cross section in pp collisions at sqrt(s) = 7 TeV



84.
H.M. Arfaei, H. Bakhshiansohi, S.M. Etesami, A. Fahim, M. Hashemi, A. Jafari, M. Khakzad, A. Mohammadi, M. Mohammadi Najafabadi, S. Paktinat Mehdiabadi, B. Safarzadeh and M. Zeinali


Search for Light Resonances Decaying into Pairs of Muons as a Signal of New Physics



85.
H.M. Arfaei, H. Bakhshiansohi, S.M. Etesami, A. Fahim, M. Hashemi, A. Jafari, M. Khakzad, A. Mohammadi, M. Mohammadi Najafabadi, S. Paktinat Mehdiabadi, B. Safarzadeh and M. Zeinali


Search for Physics Beyond the Standard Model Using Multilepton Signatures in pp Collisions at sqrt(s) = 7 TeV


Code: IPM/P.A-182
86.
H.M. Arfaei, H. Bakhshiansohi, S.M. Etesami, F. Fahim, M. Hashemi, A. Jafari, M. Khakzad, A. Mohammadi, M. Mohammadi Najafabadi, S. Paktinat Mehdiabadi, B. Safarzadeh and M. Zeinali


Measurement of the tt Production Cross Section in pp Collisions at sqrt(s) = 7 TeV using the Kinematic Properties of Events with Leptons and Jets


Code: IPM/P.A-181
87.
H.M. Arfaei, H. Bakhshiansohi, S.M. Etesami, A. Fahim, M. Hashemi, A. Jafari, M. Khakzad, A. Mohammadi, M. Mohammadi Najafabadi, S. Paktinat Mehdiabadi, B. Safarzadeh and M. Zeinali


Measurement of the Ratio of the 3-jet to 2-jet Cross Sections in pp Collisions at sqrt(s) = 7 TeV


Code: IPM/P.A-180
88.
H.M. Arfaei, H. Bakhshiansohi, S.M. Etesami, A. Fahim, M. Hashemi, A. Jafari, M. Khakzad, A. Mohammadi, M. Mohammadi Najafabadi, S. Paktinat Mehdiabadi, B. Safarzadeh and M. Zeinali


Measurement of the Inclusive Jet Cross Section in pp Collisions at sqrt(s) = 7 TeV



89.
H.M. Arfaei, H. Bakhshiansohi, S.M. Etesami, A. Fahim, M. Hashemi, A. Jafari, M. Khakzad, A. Mohammadi, M. Mohammadi Najafabadi, S. Paktinat Mehdiabadi, B. Safarzadeh and M. Zeinali


Measurement of the tt production cross section and the top quark mass in the dilepton channel in pp collisions at sqrt(s) = 7 TeV



90.
H.M. Arfaei, H. Bakhshiansohi, S.M. Etesami, A. Fahim, M. Hashemi, A. Jafari, M. Khakzad, A. Mohammadi, M. Mohammadi Najafabadi, S. Paktinat Mehdiabadi, B. Safarzadeh and M. Zeinali


Search for First Generation Scalar Leptoquarks in the enjj Channel in pp Collisions at sqrt(s) = 7 TeV


Code: IPM/P.A-177
91.
H.M. Arfaei, H. Bakhshiansohi, S.M. Etesami, A. Fahim, M. Hashemi, A. Jafari, M. Khakzad, A. Mohammadi, M. Mohammadi Najafabadi, S. Paktinat Mehdiabadi, B. Safarzadeh and M. Zeinali


Suppression of Upsilon excited states in PbPb collisions at a nucleon-nucleon centre-of-mass energy of 2.76 TeV



92.
H.M. Arfaei, H. Bakhshiansohi, S.M. Etesami, A. Fahim, M. Hashemi, A. Jafari, M. Khakzad, A. Mohammadi, M. Mohammadi Najafabadi, S. Paktinat Mehdiabadi, B. Safarzadeh and M. Zeinali


Search for supersymmetry in events with a lepton, a photon, and large missing transverse energy in pp collisions at sqrt(s) = 7 TeV



93.
H.M. Arfaei, H. Bakhshiansohi, S.M. Etesami, A. Fahim, M. Hashemi, A. Jafari, M. Khakzad, A. Mohammadi, M. Mohammadi Najafabadi, S. Paktinat Mehdiabadi, B. Safarzadeh and M. Zeinali


Measurement of Wg and Zg production in pp collisions at sqrt(s) = 7 TeV


Code: IPM/P.A-174
94.
H.M. Arfaei, H. Bakhshiansohi, S.M. Etesami, A. Fahim, M. Hashemi, A. Jafari, M. Khakzad, A. Mohammadi, M. Mohammadi Najafabadi, S. Paktinat Mehdiabadi, B. Safarzadeh and M. Zeinali


Long-range and short-range dihadron angular correlations in central PbPb collisions at sqrt(s NN) = 2.76 TeV



95.
H.M. Arfaei, H. Bakhshiansohi, S.M. Etesami, A. Fahim, M. Hashemi, A. Jafari, M. Khakzad, A. Mohammadi, M. Mohammadi Najafabadi, S. Paktinat Mehdiabadi, B. Safarzadeh and M. Zeinali


Measurement of the Polarization of W Bosons with Large Transverse Momenta in W+Jets Events at the LHC



96.
H.M. Arfaei, H. Bakhshiansohi, S.M. Etesami, A. Fahim, M. Hashemi, A. Jafari, M. Khakzad, A. Mohammadi, M. Mohammadi Najafabadi, S. Paktinat Mehdiabadi, B. Safarzadeh and M. Zeinali


Charged particle transverse momentum spectra in pp collisions at p sqrt(s) = 0.9 and 7 TeV



97.
H.M. Arfaei, H. Bakhshiansohi, S.M. Etesami, A. Fahim, M. Hashemi, A. Jafari, M. Khakzad, A. Mohammadi, M. Mohammadi Najafabadi, S. Paktinat Mehdiabadi, B. Safarzadeh and M. Zeinali


Search for new physics with same-sign isolated dilepton events with jets and missing transverse energy at the LHC



98.
H.M. Arfaei, H. Bakhshiansohi, S.M. Etesami, A. Fahim, M. Hashemi, A. Jafari, M. Khakzad, A. Mohammadi, M. Mohammadi Najafabadi, S. Paktinat Mehdiabadi, B. Safarzadeh and M. Zeinali


Measurement of the B 0 Production Cross Section in pp Collisions at p sqrt(s) = 7 TeV



99.
H.M. Arfaei, H. Bakhshiansohi, S.M. Etesami, A. Fahim, M. Hashemi, A. Jafari, M. Khakzad, A. Mohammadi, M. Mohammadi Najafabadi, S. Paktinat Mehdiabadi, B. Safarzadeh and M. Zeinali


Measurement of the differential dijet production cross section in proton-proton collisions at p sqrt(s) = 7 TeV


Code: IPM/P.A-168
100.
H.M. Arfaei, H. Bakhshiansohi, S.M. Etesami, A. Fahim, M. Hashemi, A. Jafari, M. Khakzad, A. Mohammadi, M. Mohammadi Najafabadi, S. Paktinat Mehdiabadi, B. Safarzadeh and M. Zeinali


Measurement of the lepton charge asymmetry in inclusive W production in pp collisions at sqrt(s) = 7 TeV


Code: IPM/P.A-163
101.
H.M. Arfaei, H. Bakhshiansohi, S.M. Etesami, A. Fahim, M. Hashemi, A. Jafari, M. Khakzad, A. Mohammadi, M. Mohammadi Najafabadi, S. Paktinat Mehdiabadi, B. Safarzadeh and M. Zeinali


Search for Large Extra Dimensions in the Diphoton Final State at the Large Hadron Collider



102.
H.M. Arfaei, H. Bakhshiansohi, S.M. Etesami, A. Fahim, M. Hashemi, A. Jafari, M. Khakzad, A. Mohammadi, M. Mohammadi Najafabadi, S. Paktinat Mehdiabadi, B. Safarzadeh and M. Zeinali


Measurement of the Inclusive Z Cross Section via Decays to Tau Pairs in pp Collisions at sqrt(s)=7 TeV



103.
H.M. Arfaei, H. Bakhshiansohi, S.M. Etesami, A. Fahim, M. Hashemi, A. Jafari, M. Khakzad, A. Mohammadi, M. Mohammadi Najafabadi, S. Paktinat Mehdiabadi, B. Safarzadeh and M. Zeinali


Search for Neutral MSSM Higgs Bosons Decaying to Tau Pairs in pp Collisions at sqrt(s)=7 TeV


Code: IPM/P.A-160
104.
H.M. Arfaei, H. Bakhshiansohi, S.M. Etesami, A. Fahim, M. Hashemi, A. Jafari, M. Khakzad, A. Mohammadi, M. Mohammadi Najafabadi, S. Paktinat Mehdiabadi, B. Safarzadeh and M. Zeinali


Search for a Heavy Bottom-like Quark in pp Collisions at sqrt(s) = 7 TeV


Code: IPM/P.A-159
105.
H.M. Arfaei, H. Bakhshiansohi, S.M. Etesami, A. Fahim, M. Hashemi, A. Jafari, M. Khakzad, A. Mohammadi, M. Mohammadi Najafabadi, S. Paktinat Mehdiabadi, B. Safarzadeh and M. Zeinali


Measurement of WW Production and Search for the Higgs Boson in pp Collisions at sqrt(s) = 7 TeV


Code: IPM/P.A-158
106.
H.M. Arfaei, H. Bakhshiansohi, S.M. Etesami, A. Fahim, M. Hashemi, A. Jafari, M. Khakzad, A. Mohammadi, M. Mohammadi Najafabadi, S. Paktinat Mehdiabadi, B. Safarzadeh and M. Zeinali


Study of Z boson production in PbPb collisions at nucleon-nucleon centre of mass energy = 2.76 TeV



107.
H.M. Arfaei, H. Bakhshiansohi, S.M. Etesami, A. Fahim, M. Hashemi, A. Jafari, M. Khakzad, A. Mohammadi, M. Mohammadi Najafabadi, S. Paktinat Mehdiabadi, B. Safarzadeh and M. Zeinali


Search for a W' boson decaying to a muon and a neutrino in pp collisions at sqrt(s) = 7 TeV


Code: IPM/P.A-156
108.
H.M. Arfaei, H. Bakhshiansohi, S.M. Etesami, A. Fahim, M. Hashemi, A. Jafari, M. Khakzad, A. Mohammadi, M. Mohammadi Najafabadi, S. Paktinat Mehdiabadi, B. Safarzadeh and M. Zeinali


Search for Supersymmetry in pp Collisions at sqrt(s) = 7 TeV in Events with Two Photons and Missing Transverse Energy



109.
H.M. Arfaei, H. Bakhshiansohi, S.M. Etesami, A. Fahim, M. Hashemi, A. Jafari, M. Khakzad, A. Mohammadi, M. Mohammadi Najafabadi, S. Paktinat Mehdiabadi, B. Safarzadeh and M. Zeinali


Search for Resonances in the Dilepton Mass Distribution in pp Collisions at sqrt(s) = 7 TeV



110.
H.M. Arfaei, H. Bakhshiansohi, S.M. Etesami, A. Fahim, M. Hashemi, A. Jafari, M.. Khakzad, A.. Mohammadi, M. Mohammadi Najafabadi, S. Paktinat Mehdiabadi, B. Safarzadeh and M. Zeinali


Search for Physics Beyond the Standard Model in Opposite-Sign Dilepton Events at sqrt(s) = 7 TeV



111.
H.M. Arfaei, H. Bakhshiansohi, S.M. Etesami, A. Fahim, M. Hashemi, A. Jafari, M. Khakzad, A. Mohammadi, M. Mohammadi Najafabadi, S. Paktinat Mehdiabadi, B. Safarzadeh and M. Zeinali


First Measurement of Hadronic Event Shapes in pp Collisions at sqrt(s)=7 TeV


Code: IPM/P.A-150
112.
H. Arfaei, H. Bakhshiansohi, S.M. Etesami, A. Fahim, M. Hashemi, A. Jafari, M. Khakzad, A. Mohammadi, M. Mohammadi Najafabadi, S. Paktinat Mehdiabadi, B. Safarzadeh and M. Zeinali


Observation and studies of jet quenching in PbPb collisions at nucleon-nucleon center-of-mass energy = 2.76 TeV


Code: IPM/P.A-149
113.
H.M. Arfaei, H. Bakhshiansohi, S.M. Etesami, A. Fahim, M. Hashemi, A. Jafari, M. Khakzad, A. Mohammadi, M. Mohammadi Najafabadi, S. Paktinat Mehdiabadi, B. Safarzadeh and M. Zeinali


Measurement of Dijet Angular Distributions and Search for Quark Compositeness in pp Collisions at 7 TeV



114.
H.M. Arfaei, H. Bakhshiansohi, S.M. Etesami, A. Fahim, M. Hashemi, A. Jafari, M. Khakzad, A. Mohammadi, M. Mohammadi Najafabadi, S. Paktinat Mehdiabadi, B. Safarzadeh and M. Zeinali


Measurement of B anti-B Angular Correlations based on Secondary Vertex Reconstruction at sqrt(s)=7 TeV


Code: IPM/P.A-147
115.
H.M. Arfaei, H. Bakhshiansohi, S.M. Etesami, A. Fahim, M. Hashemi, A. Jafari, M. Khakzad, A. Mohammadi, M. Mohammadi Najafabadi, S. Paktinat Mehdiabadi, B. Safarzadeh and M. Zeinali


Strange Particle Production in pp Collisions at sqrt(s) = 0.9 and 7 TeV



116.
H. Arfaei, H. Bakhshiansohi, S.M. Etesami, A. Fahim, M. Hashemi, A. Jafari, M. Khakzad, A. Mohammadi, M. Mohammadi Najafabadi, S. Paktinat Mehdiabadi, B. Safarzadeh and M. Zeinali


Measurement of the B + Production Cross Section in pp Collisions at p sqrt(s) = 7 TeV



117.
H. Arfaei, H. Bakhshiansohi, S.M. Etesami, A. Fahim, M. Hashemi, A. Jafari, M. Khakzad, A. Mohammadi, M. Mohammadi Najafabadi, S. Paktinat Mehdiabadi, B. Safarzadeh and M. Zeinali


Search for Supersymmetry in pp Collisions at 7 TeV in Events with Jets and Missing Transverse Energy


Code: IPM/P.A-136
118.
H. Arfaei, H. Bakhshiansohi, S.M. Etesami, A. Fahim, M. Hashemi, A. Jafari, M. Khakzad, A. Mohammadi, M. Mohammadi Najafabadi, S. Paktinat Mehdiabadi, B. Safarzadeh and M. Zeinali


Search for Heavy Stable Charged Particles in pp Collisions at p sqrt(s) = 7 TeV


Code: IPM/P.A-135
119.
H. Arfaei, H. Bakhshiansohi, S.M. Etesami, A. Fahim, M. Hashemi, A. Jafari, M. Khakzad, A. Mohammadi, M. Mohammadi Najafabadi, S. Paktinat Mehdiabadi, B. Safarzadeh and M. Zeinali


Dijet Azimuthal Decorrelations in pp Collisions at sqrt(s) = 7 TeV



120.
H. Arfaei, H. Bakhshiansohi, S.M. Etesami, A. Fahim, M. Hashemi, A. Jafari, M. Khakzad, A. Mohammadi, M. Mohammadi Najafabadi, S. Paktinat Mehdiabadi, B. Safarzadeh and M. Zeinali


Search for Pair Production of Second-Generation Scalar Leptoquarks in pp Collisions at sqrt(s) = 7 TeV



121.
H. Arfaei, H. Bakhshiansohi, S.M. Etesami, A. Fahim, M. Hashemi, A. Jafari, M. Khakzad, A. Mohammadi, M. Mohammadi Najafabadi, S. Paktinat Mehdiabadi, B. Safarzadeh and M. Zeinali


Upsilon Production Cross-Section in pp Collisions at sqrts=7 TeV


Code: IPM/P.A-123
122.
H. Arfaei, H. Bakhshiansohi, S.M. Etesami, A. Fahim, M. Hashemi, A. Jafari, M. Khakzad, A. Mohammadi, M. Mohammadi Najafabadi, s. Paktinat Mehdiabadi, B. Safarzadeh and M. Zeinali


Search for a heavy gauge boson W' in the final state with an electron and large missing transverse energy in pp collisions at sqrt(s) = 7 TeV


Code: IPM/P.A-122
123.
H. Arfaei, H. Bakhshiansohi, S.M. Etesami, A. Fahim, M. Hashemi, A. Jafari, M. Khakzad, A. Mohammadi, M. Mohammadi Najafabadi, S. Paktinat Mehdiabadi, B. Safarzadeh and M. Zeinali


Measurement of the B+ Production Cross Section in pp Collisions at sqrt(s) = 7 TeV


Code: IPM/P.A-121
124.
H. Arfaei, H. Bakhshiansohi, S.M. Etesami, A. Fahim, M. Hashemi, A. Jafari, M. Khakzad, A. Mohammadi, M. Mohammadi Najafabadi, S. Paktinat Mehdiabadi, B. Safarzadeh and M. Zeinali


First Measurement of the Cross Section for Top-Quark Pair Production in Proton-Proton Collisions at sqrt(s)=7 TeV


Code: IPM/P.A-104
125.
H. Arfaei, H. Bakhshiansohi, S.M. Etesami, A. Fahim, M. Hashemi, A. Jafari, M. Khakzad, A. Mohammadi, M. Mohammadi Najafabadi, S. Paktinat Mehdiabadi, B. Safarzadeh and M. Zeinali


First Measurement of the Cross Section for Top-Quark Pair Production in Proton-Proton Collisions at sqrt(s)=7 TeV


Code: IPM/P.A-132
126.
H. Arfaei, H. Bakhshiansohi, S.M. Etesami, A. Fahim, M. Hashemi, A. Jafari, M. Khakzad, A. Mohammadi, M. Mohammadi Najafabadi, S. Paktinat Mehdiabadi, B. Safarzadeh and M. Zeinali


Prompt and non-prompt J/psi production in pp collisions at sqrt(s) = 7 TeV


Code: IPM/P.A-131
127.
H. Arfaei, H. Bakhshiansohi, S.M. Etesami, A. Fahim, M. Hashemi, A. Jafari, M. Khakzad, A. Mohammadi, M. Mohammadi Najafabadi, S. Paktinat Mehdiabadi, B. Safarzadeh and M. Zeinali


Charged particle multiplicities in pp interactions at sqrt(s) = 0.9, 2.36, and 7 TeV


Code: IPM/P.A-130
128.
H. Arfaei, H. Bakhshiansohi, S.M. Etesami, A. Fahim, M. Hashemi, A. Jafari, M. Khakzad, A. Mohammadi, M. Mohammadi Najafabadi, S. Paktinat Mehdiabadi, B. Safarzadeh and M. Zeinali


Search for Stopped Gluinos in pp collisions at sqrt s = 7 TeV


Code: IPM/P.A-129
129.
H. Arfaei, H. Bakhshiansohi, S.M. Etesami, A. Fahim, M. Hashemi, A. Jafari, M. Khakzad, A. Mohammadi, M. Mohammadi Najafabadi, S. Paktinat Mehdiabadi, B. Safarzadeh and M. Zeinali


Measurement of the Isolated Prompt Photon Production Cross Section in pp Collisions at sqrt(s) = 7 TeV


Code: IPM/P.A-128
130.
H. Arfaei, H. Bakhshiansohi, S.M. Etesami, A. Fahim, M. Hashemi, A. Jafari, M. Khakzad, A. Mohammadi, M. Mohammadi Najafabadi, S. Paktinat Mehdiabadi, B. Safarzadeh and M. Zeinali


Measurements of Inclusive W and Z Cross Sections in pp Collisions at sqrt(s)=7 TeV


Code: IPM/P.A-127
131.
H. Arfaei, H. Bakhshiansohi, S.M. Etesami, A. Fahim, M. Hashemi, A. Jafari, M. Khakzad, A. Mohammadi, M. Mohammadi Najafabadi, S. Paktinat Mehdiabadi, B. Safarzadeh and M. Zeinali


Search for Microscopic Black Hole Signatures at the Large Hadron Collider


Code: IPM/P.A-126
132.
H. Arfaei, H. Bakhshiansohi, S.M. Etesami, A. Fahim, M. Hashemi, A. Jafari, M. Khakzad, A. Mohammadi, M. Mohammadi Najafabadi, S. Paktinat Mehdiabadi, B. Safarzadeh and M. Zeinali


Search for Pair Production of First-Generation Scalar Leptoquarks in pp Collisions at sqrt(s) = 7 TeV


Code: IPM/P.A-125
133.
H. Arfaei, H. Bakhshiansohi, S.M. Etesami, A. Fahim, M. Hashemi, A. Jafari, M. Khakzad, A. Mohammadi, M. Mohammadi Najafabadi, S. Paktinat Mehdiabadi, B. Safarzadeh and M. Zeinali


Observation of Long-Range Near-Side Angular Correlations in Proton-Proton Collisions at the LHC


Code: IPM/P.A-107
134.
H. Arfaei, H. Bakhshiansohi, S.M. Etesami, A. Fahim, M. Hashemi, A. Jafari, M. Khakzad, A. Mohammadi, M. Mohammadi Najafabadi, S. Paktinat Mehdiabadi, B. Safarzadeh and M. Zeinali


Search for Dijet Resonances in 7 TeV pp Collisions at CMS


Code: IPM/P.A-106
135.
H. Arfaei, H. Bakhshiansohi, S.M. Etesami, A. Fahim, M. Hashemi, A. Jafari, M. Khakzad, A. Mohammadi, M. Mohammadi Najafabadi, S. Paktinat Mehdiabadi, B. Safarzadeh and M. Zeinali


Search for Quark Compositeness with the Dijet Centrality Ratio in pp Collisions at sqrt(s)=7 TeV


Code: IPM/P.A-105