"Fahimeh Karimi Pour Haddadan "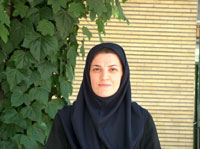 Tel: +98 21 22809150
Fax: +98 21 22813722
Email:
IPM Positions
PostDoctoral Associate, School of Physics
(2005 - 2008 )


Research Interests
Structural Intractionsin Liquid Crystals, Structural and Thermodynamic Phase Transitions in Soft Materials
Research Activities
My Researche focuses on theoretical investigation of the intractions between external objects in liquid crystals. These forces are mediated by elasticity of the liquid crystalline materials resulting from broken continous symmetry. As anisotropic molecular fluids, we are also interested in the structural and thermodynamic phase transitions in such soft materials.
Present Research Project at IPM
Structural Intractionsin Liquid Crystals, Structural and Thermodynamic Phase Transitions in Soft Materials
Related Papers
1.
F. Karimi Pour Haddadan and S. Dietrich


Lateral and Normal Forces Between Patterned Substrates Induced by Nematic Fluctuations


Code: IPM/P-2006/063