"Yasaman Farzan"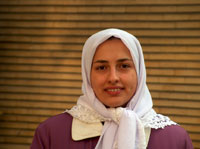 Tel: +98 21 22280692
Fax: +98 21 22280415
Email:
IPM Positions
Head, School of Physics
Faculty Member , Faculty, School of Physics
(2008 - Present )


Past IPM Positions
PostDoctoral Associate, School of Particles and Accelerator
(2007 - 2008)
PostDoctoral Associate, School of Physics
(2004 - 2007)



non IPM Affiliations
Junior associate member, Abdus Salam International Center for Theoretical Physics(ICTP)
Research Interests
Dark matter, neutrino physics, Supersymmetry, LHC physics
Awards
I am a PI of invisibles ( neutrinos, dark matter & dark energy physics)European network Awards: 1) 2013 ICTP prize;
2) 2008 IUPAP Young Scientist Prize;
3) 2015 Abureihan prize of academy of science;
4) The Khwarizmi young scientist Award, 2006;
5) Winning i) honorable mention; ii) best girl student; iii) silver medal in theory
in the International physics Olympiad held in China in 1994.
Research Activities
At the moment, I am working on three separate projects: 1) In Collaboration with Prof. A. Yu. Smirnov, I am working on classification of different summetries that can predict the value of CP-Violating phases in the leptonic sector. This study will hel us to derive information on underlying physicsby measuring these phases. 2) Recently, warm dark matter with mass ~10 kcv has received extensive attention. On the other hand, the results of the LSND experiment is one of the puzzles of neutrino physics which awaits an explanation. In collaboration with A. Kusenko and S. Pascoli we are building up a framework that can explain both Phenomena. 3) supersymmetrizing the Standard Model(SM), new sources for both CP-Violation and Lepron Flavor Violation(LFV)will appear. Although so far no effect, beyond what SM and Neutrino mass matrix allows, has been detected, the current and upcoming experiments are aiming at improving the boundles on them. In case the LFV effects are close to the current bounds, there are good prospects of measuring the branching ratios with high (few percent) precision. We study the possibility of deriving information on the parameters of the model from such precise measurements.
Present Research Project at IPM
Vector boson as dark matter Propagation of super nova neutrinos potentials of PINGU Experiment.
More Information
Junior associate of ICTP, 1 January 2007-31 December 2012 Regular associate of ICTP, 1 January 2016-31 December 2021 PI of the Iran node of the Invisibles and Elusives network on neutrinos, dark matter and dark energy physics hyperlink: http://www.invisibles.eu/ http://www.elusives.eu/
Related Papers
1.
D. G. Cerdeno, M. Cermeno and Y. Farzan


Constraints from the duration of supernova neutrino burst on resonant light gauge boson production by neutrinos


abs, src, ps, others], cited by
Code: IPM/P-2023/01
2.
Y. Farzan


The Forward Physics Facility: Sites, experiments, and physics potential


Code: IPM/P-2022/19
4.
S. Ansarifard and Y. Farzan


Excess of tau events at SND@LHC, FASER$\nu $ and FASER$\nu $2


arXive.org link: 2112.08799 [ abs, src, ps, others], cited by
Code: IPM/P-2022/43
9.
S. Ansarifard and Y. Farzan


Revisiting pseudo-Dirac neutrino scenario after recent solar neutrino data


abs, src, ps, others], cited by
Code: IPM/P-2022/41
10.
N. Bernal and Y. Farzan


Neutrino Non-standard Interactions with arbitrary couplings to u and d quarks


abs, src, ps, others], cited by
Code: IPM/P-2022/40
12.
Y. Farzan


A dark matter solution for the XENON1T electron excess and the galactic center 511 keV line


abs, src, ps, others], cited by
Code: IPM/P-2021/35
19.
A. Esmaili and Y. Farzan
Explaining the ANITA events by a Le−Lτ gauge model
arXive.org link: 1909.07995 [ abs, src, ps, others], cited by
Code: IPM/P-2019/038 Note: Print: 2019-12-05
20.
Y. Farzan


Ultra-light scalar saving the 3+1 neutrino scheme from the cosmological bounds


arXive.org link: 1907.04271 [ abs, src, ps, others], cited by
Code: IPM/P-2019/036 Note: 10 October 2019
22.
P. B. Denton, Y. Farzan and I. M. Shoemaker


Activating the fourth neutrino of the 3+1 scheme


arXive.org link: 1811.01310 [ abs, src, ps, others], cited by
Code: IPM/P-2018/077 Note: 2019-02-07
24.
Y. Farzan and S. Palomares-Ruiz


Flavor of cosmic neutrinos preserved by ultralight dark matter


arXive.org link: 1810.00892 [ abs, src, ps, others], cited by
Code: IPM/P-2018/074 Note: Published 21 March 2019
25.
P.B. Denton, Y. Farzan and I.M. Shoemaker


Testing large non-standard neutrino interactions with arbitrary mediator mass after COHERENT data


arXive.org link: 1804.03660 [ abs, src, ps, others], cited by
Code: IPM/P-2018/046
26.
Y. Farzan, M. Lindner, W. Rodejohann and X.J. Xu


Probing neutrino coupling to a light scalar with coherent neutrino scattering


arXive.org link: 1802.05171 [ abs, src, ps, others], cited by
Code: IPM/P-2018/013
27.
Y. Farzan and M. Tortola


Neutrino oscillations and Non-Standard Interactions


arXive.org link: 1710.09360 [ abs, src, ps, others], cited by
Code: IPM/P-2017/057
29.
P. Bakhti and Y. Farzan


Constraining secret gauge interactions of neutrinos by meson decays


Code: IPM/P-2017/033
30.
Y. Farzan


Viable models for large non-standard neutrino interaction




( In: Nufact 2016 held in Quy Nhon, Vietnam)

[abstract]

Code: IPM/P-2016/044
31.
Y. Farzan and J. Heeck


Neutrinophilic nonstandard interactions


Code: IPM/P-2016/043
33.
Y. Farzan and M. Shoemaker


Lepton Flavor Violating Non-Standard Interactions via Light Mediators


Code: IPM/P-2016/022
34.
Y. Farzan and S. Hannestad


Neutrinos secretly converting to lighter particles to please both KATRIN and the cosmos


Code: IPM/P-2015/048
35.
Y. Farzan


A model for large non-standard interactions of neutrinos leading to the LMA-Dark solution


Code: IPM/P-2015/047
36.
P. Bakhti, Y. Farzan and T. Schwetz


Revisiting the quantum decoherence scenario as an explanation for the LSND anomaly


Code: IPM/P-2015/046
38.
Y. Farzan and A. Rezaei Akbarieh


Decaying Vector Dark Matter as an Explanation for the 3.5 keV Line from Galaxy Clusters


abs, src, ps, others], cited by
Code: IPM/P-2014/053
39.
P. Bakhti and Y. Farzan


Measuring Dirac CP-violating phase with intermediate energy beta beam facility


Code: IPM/P-2014/020
40.
Y. Farzan and S. Palomares-Ruiz


Dips in the Diffuse Supernova Neutrino Background


arXive.org link: 1401.7019 [hep-ph] [ abs, src, ps, others], cited by
Code: IPM/P-2014/018
41.
P. Bakhti and Y. Farzan


Shedding light on LMA-Dark solar neutrino solution by medium baseline reactor experiments: JUNO and RENO-50


Code: IPM/P-2014/017
42.
J.M. Cline, Y. Farzan, Z. Liu, G.D. Moore and W. Xue


3.5 keV X-rays as the "21 cm line" of dark atoms, and a link to light sterile neutrinos


Code: IPM/P-2014/016
44.
P. Bakhti and Y. Farzan


Constraining Super-light Sterile Neutrino Scenario by JUNO and RENO-50


Code: IPM/P-2014/019
45.
Y. Farzan, S. Pascoli and M. Schmidt


Recipes and Ingredients for Neutrino Mass at Loop Level


Code: IPM/P-2012/028
46.
Y. Farzan


Lepton Flavor Violation Shedding Light on CP-Violation


Code: IPM/P-2012/059
50.
M. Hirsch, D. Meloni, S. Morisi, S. Pastor, E. Peinado, J.W.F.. Valle, A. Adulpravitchai, D. Aristizabal Sierra, F. Bazzocchi, G. Bhattacharyya, G. Blankenburg, M. S. Boucenna, I. de Medeiros Varzielas, M. Diaz, G. Jun Ding, J. N. Esteves, Y. Farzan, S. Garcia Saenz, W. Grimus, C. Hagedorn, J. Jones-Perez, Anjan S. Joshipura, A. Kadosh, K. Kadota, S. Kang, J. Kersten, B. Koch, Martin B. Krauss, Ph. Leser, P. Otto Ludl, V. Maurer, L. Merlo, G. Panotopoulos, A. Papa, H. Pas, Ketan M. Patel, W. Rodejohann, U. J. Saldana Salazar, H. Serodio, Y. Shimizu, M. Spinrath, E. Stamou, H. Sugiyama, M. Taoso, T. Toma and L. Velasco-Sevilla


Proceedings of the first workshop on Flavor Symmetries and consequences in Accelerators and Cosmology (FLASY2011)


arXive.org link: 1201.5525 [hep-ph] [ abs, src, ps, others], cited by
Code: IPM/P-2011/059
52.
Y. Farzan


Strategies to Link Tiny Neutrino Masses with Huge Missing Mass of the Universe


arXive.org link: 1106.2948 [hep-ph] [ abs, src, ps, others], cited by
Code: IPM/P-2011/058
54.
Y. Farzan


A Framework to Simultaneously Explain Tiny Neutrino Mass and Huge Missing Mass Problem of the Universe




Mod. Phys. Lett. A

25

(2010), 2111-2120

[abstract]

arXive.org link: arXiv:1009.1234 [ abs, src, ps, others], cited by
Code: IPM/P-2010/037
55.
Y. Farzan and M. Hashemi


SLIM at LHC: LHC Ssearch Power for a Model Linking Dark Matter and Neutrino Mass


abs, src, ps, others], cited by
Code: IPM/P-2010/036
56.
Y. Farzan, S. Pascoli and M.A. Schmidt


A Leptophilic Model Explaining Neutrino Masses and Dark Matter


arXive.org link: arXiv:1005.5323 [ abs, src, ps, others], cited by
Code: IPM/P-2010/035
57.
Y. Farzan and S. Najjari
Extracting the CP-Violating Phases of Trilinear R-Parity Violating Couplings from μ→ eee
arXive.org link: arXiv:1001.3207 [ abs, src, ps, others], cited by
Code: IPM/P-2010/001
59.
Y. Farzan


Information on CP-Violating Phases as a Bonus in the Searches for the Lepton Flavor Violating Processes




Int. J. Mod. Phys. A

24

(2009), 3403-3413

[abstract]

Code: IPM/P-2009/057
60.
Y. Farzan


A Minimal Model Linking Two Great Mysteries: Neutrino Mass and Dark Matter


arXive.org link: arXiv:0908.3729 [ abs, src, ps, others], cited by
Code: IPM/P-2009/038
62.
Y. Farzan
Measuring CP-Violating Phases through Studying the Polarization of the Final Particles in μ→ eee
arXive.org link: lanl.arXiv.org [ abs, src, ps, others], cited by
Code: IPM/P-2009/006
65.
S.Y. Ayazi and Y. Farzan


Combined Analysis of Electric Dipole Moments and Lepton Flavor Violating Rare Decays




( In: Proceedings of ICHEP08, Philadelphia, USA, August 2008,)

[abstract]

arXive.org link: arXiv:0809.4930 [ abs, src, ps, others], cited by
Code: IPM/P-2008/081
66.
Y. Farzan, T. Schwetz and A.Y. Smirnov


Reconciling Results of LSND, MiniBooNE and Other Experiments with Soft Decoherence


arXive.org link: arXiv:0805.2098 [ abs, src, ps, others], cited by
Code: IPM/P-2008/080
67.
Y. Farzan and A.Y. Smirnov


Coherence and Oscillations of Cosmic Neutrinos


arXive.org link: arXiv:0803.0495 [ abs, src, ps, others], cited by
Code: IPM/P-2008/079
70.
Y. Farzan and A. Yu . Smirnov


Leptonic CP Violation: Zero, Maximal or Between the Two Extremes?


arXive.org link: hep-ph/0610337 [ abs, src, ps, others], cited by
Code: IPM/P-2006/060
71.
C. Boehm, Y. Farzan, T. Hambye, S. Palomares-Ruiz and S. Pascoli


Are Small Neutrino Masses Unveiling the Missing Mass Problem of the Universe?


abs, src, ps, others], cited by
Code: IPM/P-2006/077
72.
D.A. Demir and Y. Farzan


On the Sources of CP-Violation Contributing to the Electric Dipole Moments




( In: Proceedings of IPM School and Conference on Lepton and Hadron Physics (IPM-LHP06), Tehran, Iran, 15-20 May 2006, pp 0005. )

[abstract]

arXive.org link: hep-ph/0610181 [ abs, src, ps, others], cited by
Code: IPM/P-2006/058
74.
D.A. Demir and Y. Farzan
Correlating μ Parameter and Right-Handed Neutrino Masses in N=1 Supergravity
arXive.org link: hep-ph/0601096 [ abs, src, ps, others], cited by
Code: IPM/P-2006/004
75.
Y. Farzan and J. W. F. Valle


R-Parity Violation Assisted Thermal Leptogenesis in the Seesaw Mechanism


arXive.org link: hep-ph/0509280 [ abs, src, ps, others], cited by
Code: IPM/P-2005/068
76.
D. A. Demir and Y. Farzan


Can Measurements of Electric Dipole Moments Determine the Seesaw Paramaters?


arXive.org link: hep-ph/0508236 [ abs, src, ps, others], cited by
Code: IPM/P-2005/057
78.
Y. Farzan


Effects of the Neutrino B-Term on the Higgs Mass Parameters and Electroweak Symmetry Breaking


arXive.org link: hep-ph/0411358 [ abs, src, ps, others], cited by
Code: IPM/P-2004/073