"Hamid Sarbazi-Azad"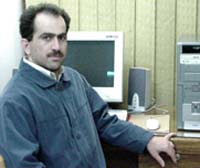 Tel: +98 21 22828687
Fax: +98 21 22828180
Email:
IPM Positions
Head, School of Computer Science
Member, Scientific Council, School of Computer Science
(2002 - Present )


Non IPM Affiliations
Faculty Member of Sharif University of Technology
Research Interests
Computer Architecture, Parallel & Distributed Systems, Performance Analysis, Image Processing
Awards
IEEE Computer Society
Research Activities
Among models proposed for the performance of mesh networks, two of them deal with wormhole switching. One considers deterministic routing while the other one takes care of adaptive routing. The model proposed for adaptive routing, uses crude approximations to calculate some important parameters in the model using expressions derived for the torus. This has resulted in inaccuracy for prediction. This research aims to propose an analytical model for mesh networks using adaptive routing & wormhole switching using accurate expressions for models parameters.
Present Research Project at IPM
Performance Analysis & Evaluation of Mesh-Connected Multicomputer Interconnection Network
Related Papers
1.

H. H. Najaf-abadi, H. Sarbazi-azad and P. Rajabzadeh




Performance modeling of fully adaptive wormhole routing in 2-D mesh-connected multiprocessors




( In: Modeling, analysis, and simulation of computer and telecom. systems)

[abstract]